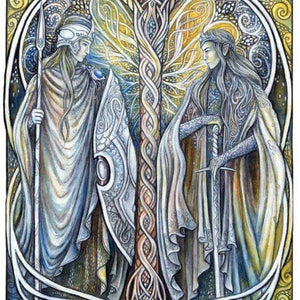 In this extraordinary initiation into the Magick of the Fae, the Mysteries of the Underworld and Faery Shamanism, you will learn

Faery Myth and Lore
The Rising Light Below Energy System
Basic and Advanced Ritual Structures for Inner World Contact
The Underworld Vision To Meet your Shamanic Faery Ally/ Other
To Contact the Power within the Land

Via shamanic and magical practices that go back thousands of years, we will learn to open gateways to the normally invisible dimension of Faery, a World that shares Nature in common with Humanity. Via Visionary methods and the secrets of the Faery Shamans (Seers), we will learn to safely communicate with powerful Faery Allies, whom we may call upon to assist in the healing and regeneration of ourselves, our species, and our Planet.

Please join us for this magical workshop!
About the Instructor: Paul Diamond has initiated and worked deeply in various streams of Shamanic, Tantric, Yogic, Taoist and Sufi mysticism. He holds multiple degrees including an BSc in Chinese Medicine and a Masters in the Study of Mysticism and Religious Experience. Paul offers a unique experience-base and perspective, bridging spiritual and scientific understandings of consciousness and spiritual practice, in a harmonious and effective manner. More on Paul

DETAILS:
This workshop is a 5.5 hour self-paced digital download. Students will receive a link, embedded in a PDF syllabus, upon registration.

Total Cost: $60 USD to be submitted upon registration

 

Message us through Facebook or Email with questions. We look forward to seeing you!